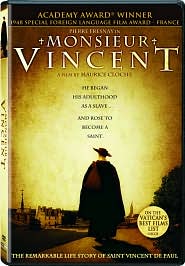 At last! At last! MONSIEUR VINCENT, Maurice Cloche's beautifully crafted, award-winning biopic starring Pierre Fresnay as St. Vincent de Paul, is coming to DVD next Tuesday!
I first saw Monsieur Vincent years ago via a local library copy of an out-of-print English-dubbed VHS, which is the only way the movie has been available, at least for North Americans. (Checking Amazon.fr, I see there's been a Region 2 DVD for a little over a year.) I loved the film then; having just rewatched it (in French with English subtitles), I find that I love it even more now.

Monsieur Vincent is one of the 15 films in the "Religion" category on the 1995 Vatican film list, and as such has been one of the most neglected and hard-to-find of the 45 films honored on the Vatican list. (Other johnny-come-latelys to DVD include Ichikawa's lovely The Burmese Harp (1956), released last year, and Mallet's haunting Au Revoir Les Enfants in 2006.
With Monsieur Vincent now on DVD, I think the only remaining unavailable titles may be Buñuel's difficult Nazarín and Gance's 1927 silent epic Napoléon (1927), the best version of which is withheld from U.S. audiences due to rights issues.
Of all these, though, Monsieur Vincent is the film I love the best (read the review to find out why).
The Lionsgate/StudioCanal DVD is a bare-bones release featuring the original French soundtrack with English and Spanish subtitles, but no extras or bonus features. On the other hand, you can get it for under $13 at Amazon.com. What are you waiting for? Go buy it now!
(Added: Oh, incidentally, the DVD back cover art includes a blurb by, um, me.)
In other movie news, I've just posted an article on Hellboy and Spirital Warfare, Hollywood Style for today's release of Hellboy II: The Golden Army. Along with my Hellboy II review, it was written for Christianity Today Movies.
In addition to the Hellboy movies, the article discusses movies from Constantine and Ghost Rider to The Exorcist and The Exorcism of Emily Rose, as well as the films of Terence Fisher (The Devil Rides Out, Horror of Dracula), an Anglican director of British horror films in the 1950s and 1960s.
Among other things, the article discusses the role of Christian iconography in such films, the implications for a moral worldview, and why Heaven often seems more remote than hell in art. (For instance, why didn't C. S. Lewis write another series of fictional letters from an archangel in heaven to a guardian angel on earth?)