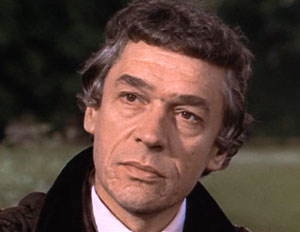 SDG here with sad news: Paul Scofield, who brilliantly portrayed St. Thomas More in Fred Zinneman's A Man for All Seasons, has died.
Scofield originated the role of Robert Bolt's stage play, adapted by Bolt himself for the screen. He knew the role intimately, and his performance is magnificently layered and sensitive.
Primarily a stage actor, Scofield's filmography also included Quiz Show, Branagh's Henry V and the Mel Gibson Hamlet.
Few actors could make decency and integrity as convincing and appealing as Scofield. If his Thomas More isn't enough for you, check him out as Ralph Fiennes' father in Quiz Show. He embodies a character for whom principles are not just abstract theories, but concrete realities taken for granted as matter-of-factly as gravity.
He does the same thing as More in A Man for All Seasons, although with more worldly-wisdom about the weaknesses of other men. In that film, the principles he stands for include the indissolubility of matrimony, the Petrine primacy of the Bishop of Rome, the inviolability of an oath, and (perhaps most importantly for Bolt) the binding authority of conscience.
He could also do villains, e.g., the Nazi colonel opposite Burt Lancaster in The Train. But even there he brought traces of corrupted idealism and nobility to the role.

A Man for All Seasons is one of the Vatican film list's 15 films in the category of Religion. Bolt's language, based as much as possible on More's own words, strives to create what Bolt called "a bold and beautiful verbal architecture." For the rest, Bolt added, "my concern was to match with these as best I could so that the theft should not be too obvious." I my book, as noted in my review, he succeeded.
I first saw this film nearly twenty years ago, before I became a Catholic, and it had an enormous impact on me. It was one of the first films I reviewed, and while my skills as a critic were still in an early stage of development, I don't think it's a bad review (though I would write it differently today).
For those who have not lately seen A Man for All Seasons, More's via dolorosa would make ideal viewing during Triduum.