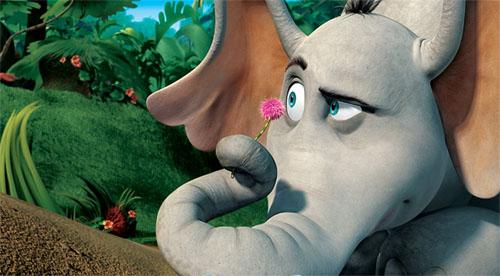 SDG here with my new Seussian review of Horton Hears a Who (opening today).
My habit of reviewing Dr. Seuss adaptations in Seussian anapestic tetrameter began eight years ago with the Jim Carrey How the Grinch Stole Christmas, which I felt deserved to be trashed, if not in the good Doctor's own voice, at least in a reasonable facsimile thereof.
A couple of years later I continued the conceit with Scooby-Doo, this time writing to the tune of the well-known Scooby-Doo theme song. (This approach permitted only 24 lines in a very limited meter, so I cheated by adding line-by-line annotations. However, it did allow me to sing a review on the air.)
Then the following year I went back to Seussian verse for the Mike Myers The Cat in the Hat.
This time, though, my Horton review is a bit different from these previous efforts.
How?
Three ways: First, the first three were all of live-action films; this one's a computer-animated cartoon. Second, the earlier Seuss adaptations were both Universal; this one is 20th Century Fox.

Neither of those is the big difference, though (although the big difference is certainly impacted by the first, and possibly by the second).

So what's the big difference with this review?

IT'S POSITIVE. Never got to recommend a movie in verse before.
Enjoy!