SDG here (not Jimmy) with a follow-up to the SDG Mystery Photo post.
As many readers correctly guessed/stated, the picture shows the Greydanus family standing in the White House Rose Garden, on the West Wing side.
Some readers may remember my mentioning in a combox awhile back that Suz and I are sort of related to someone who works on the President's staff. A few months back we took off for a week for a four-day trip to DC, and we got a super-cool White House tour that included the West Wing.
I hope to post something on the White House visit next week — though it wasn't the best story to come out of our DC trip, and that's what this post is about.
I think I can safely say that what our four older kids will probably most remember of our DC trip is our dramatic escape from a stalled elevator at the Smithsonian Institution Air & Space Museum, which involved an access panel in the roof of the elevator, two ladders, and a climb through the elevator shaft.
Here's how it happened. (Note: Photos below the fold! Click to see larger version!)
We had just come out of the Cosmic Collision planetarium show on the second floor, and were on our way to the first floor to grab lunch when we made the fateful decision to take the elevator. Besides the seven of us, there were four other passengers in the elevator.
When the elevator lurched and came to a sudden stop, my initial thought was that it was simply a poorly calibrated landing… until the doors didn't open.
Coincidentally, a gentleman on the opposite side of the elevator from me happened to be a museum employee. He fiddled with the elevator controls for a bit, and tried an elevator key presumably meant to bypass something or other. When nothing happened, he hit the alarm button a couple of times, sounding a buzzer outside the elevator.
Nothing continued to happen. Feeling that the buzzer sound was a rather unsatisfying last resort, I looked about on my side of the elevator and found an emergency phone. I picked it up, and, when someone answered, said pleasantly, "Hi, I'm calling from Elevator #2 — we're stuck between floors."
At this I was promptly transferred to someone else, and I repeated my message. Asked how many passengers there were, I replied, almost accurately, "About ten" — and at least two of the other passengers, neither Suz, helpfully added loudly, "Including small children!" You'd think I would have thought to mention that on my own.
A few minutes later we heard a dull banging sound. I banged back. A muffled voice asked, "Are you folks all right in there?" I doubt if the cacaphony of responses was intelligible on the other side, but it probably didn't sound as if we had any immediate medical emergencies either. "We're going to get you out of there!" the voice promised. "Stand back from the door!"
Of course we immediately retreated as far to the rear of the elevator as possible, vaguely imagining rescue workers on the other side setting up explosive devices against the doors and preparing to blast us to safety, or at least burly men working with a crowbar that might come prodding between the doors.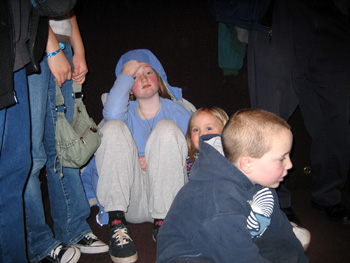 Several minutes went by. Nothing happened.
Eventually we were asked again if we were all right, and made essentially the same response.
Presently, nine-year-old David, reasonably (and correctly) concluding that there was probably no immediate danger of any sudden violent change occurring in the vicinity of the door, felt that the time had come to take action.
A moment later, only briefly overlapping with the strenuous objections of his parents and the museum employee, he succeeded in prying apart the inner doors of the elevator, revealing a wide swath of inter-floor shaft wall lined with sheet rock or something. At our feet was maybe six inches of first-floor outer elevator doors. The outer doors were still closed.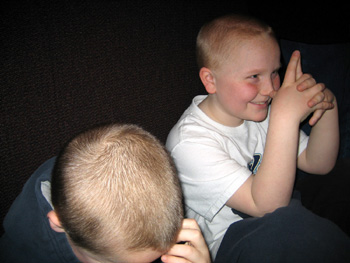 It was starting to get warm, and the boys were in sweatshirts. David had on a T-shirt underneath but six-year-old Jamie didn't. Still, we couldn't keep him in the sweatshirt, so eventually they were both sitting on the floor of the elevator, David in his T and Jamie shirtless.
It was close quarters to change a baby, but at some point Suz had to do it. She also not only TMed her sister Lori in NJ regarding our plight, but sent her digital photos from her cellphone. So Lori in NJ had photos from inside the elevator in Washington, DC before the rescue workers even appeared.
I don't remember when Jamie started to freak out, but he did. I sat down face to face with him and did my kid-whisperer shtick, basically trying to soothe and calm him by focusing his attention and trust on me. Eventually even David began to lose it and I had to kid-whisper him too, reminding him that I needed him to hold it together for his little brother's sake, which, trooper that he is, he did.
In fairness to the boys, one of the teenagers was also freaking out a bit, nervously joking that she would never ride in another elevator again. This prompted some discussion about the statistical safety of elevators and how many people in large cities ride multiple elevators every day, etc. I did not offer any kid-whispering to the teenager.
Baby Nathan, or NuNu as he is wont to be called, was undoubtedly the least stressed individual in the whole affair.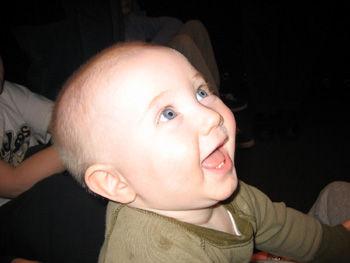 The tension level went down drastically when the firemen and maintenance people on the ground level succeeded in getting open the first-floor elevator doors, even though with only six inches of clearance no one was getting in or out that way. By that point it had gotten unpleasantly hot and stuffy, and the fresh air was, well, a breath of fresh air. Just to be able to see out of the elevator, too, made a huge emotional difference for the kids. They could see their (eventual) rescuers now, and the world was no longer confined to 200-odd cubic feet of space.
Still, apart from odd clanking sounds and such, nothing changed for awhile, until eventually the firemen and maintenance people announced that they weren't going to be able to get the elevator moving, and that they would have to evacuate us through the roof of the elevator.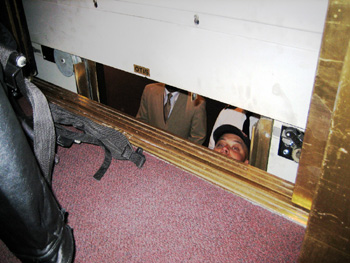 Needless to say, this revelation caused a bit of a stir. I don't know if I've ever shown the kids a movie involving elevator shafts, but clearly it was the sort of thing that might be in a movie, and this turn of events officially qualified our ordeal as an adventure.
There remained a lot of standing around and waiting while the rescue workers opened the second-floor elevator doors, lowered a long extension ladder down to the elevator, and got firemen down onto the roof of the car. I'm sure there were other complications and implications to this operation that we weren't aware of — securing the elevator to make sure it wouldn't suddenly move or fall, or something.
Of course we could hear the workers walking around on the roof of the car for some time before the access panel came off. Then a face appeared in the opening and they explained that they were going to let down a ladder, but before we started to evacuate they wanted to insert a fireman into the elevator to assist the evacuation.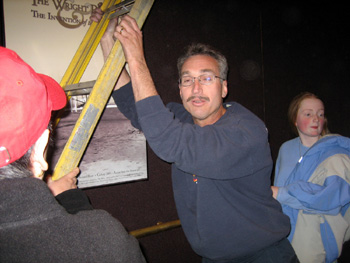 The ladder that came down was a little aluminum thing only about eight inches wide. It was no wonder they were sending someone down to help us get up it.
Soon there were twelve of us in the elevator. The fireman was a sergeant, I think, and his name was Jim, which was sort of funny because Suz and I agreed that he looked a little like the young Sgt. James Gordon from Batman Begins / Year One, although we didn't tell him this.
We spent some time discussing the order of evacuation. The family with kids was first, of course, and Suz pointed out that we needed a parent on the outside to take charge of the kids as they came out the shaft. The first priority was getting the baby out, and very luckily, because we'd been walking all over DC as well as through the museum, our paraphernalia included a baby-carrier backpack in which little Nathan had been riding for much of the day. (There was also a collapsible umbrella stroller which the firemen evacuated last.) Then of course there was Anna.
The best plan, we decided, was for me to carry the baby out on my back while spotting Anna up the first ladder. Suz would then see Sarah and the boys up and follow last. It occurred to me later that even though I had the baby, Suz probably should have gone first — though this would have been a mistake, as it turned out.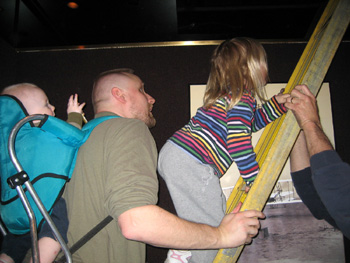 The escape hatch was a bit of a tight fit, especially with the baby in the backpack. Further complicating matters, just beyond the hatch was a low I-beam of some sort that had to be crawled under.
Anna, right in front of me, was assisted by firemen on the roof of the car as she emerged from the hatch and under the I-beam and made her way to the front of the car, where a much bigger ladder ascended the shaft to the second-floor doors above.
With Nathan on my back, I had to really press myself against the ladder and duck as low as I could to avoid conking his head on the edge of the escape hatch behind me or the I-beam before I could stand upright.
Once I could stand, I saw that the shaft was quite a bit wider than the elevator — it would have been easy to step off the car and plunge to the bottom of the shaft. Not a safe place for a three-year-old without very careful adult supervision. Seeing that, I was glad that Suz was still down in the car and couldn't see what was happening up there.
The upper ladder ascended steeply maybe 25 feet to the open second-floor doors — much too steep and too far for Anna, even with me right behind her. I couldn't carry her with the baby on my back, so one of the firemen offered to carry her, and she calmly agreed. They also asked me if I was all right to carry the baby up the second ladder, which of course I was. So I went up right behind the fireman who was carrying Anna.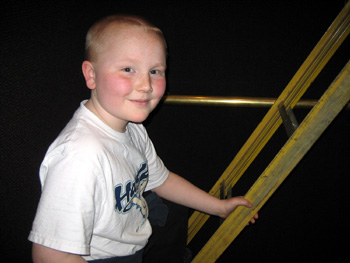 At the top of the shaft, other firemen helped us off the ladder and onto the second floor of the museum. Jamie came shortly afterwards, followed by David, Sarah and finally Suz, who, as I had guessed, was aghast at how dicey it had been, and couldn't believe Annie had had had to get onto the elevator roof essentially by herself and crawl under the I‑beam and all, or that the boys had done the whole climb on their own.
Next the other passengers started to emerge, and then came our paraphernalia. It was about 45 minutes all told.
A museum employee met us as we came up and took down our names, perhaps documenting what had happened in the event of a lawsuit. We had just enough time to wait on a very, very long line to grab a hasty bite to eat before bolting to the museum's other cinematic offering, To Fly, which FWIW had some pretty pictures but wasn't nearly as interesting as Cosmic Collision.
I'm afraid I don't have any larger political perspective on how it was all Bush's fault, or how the liberals are ruining everything. (Man, am I going to hate myself for making that joke when the combox dissolves into political bickering… my least favorite subject in the world.)
It is true that in the elevator there had been some joking that the museum should offer us a free lunch, but the museum employee trapped with us correctly observed that this would not happen: "In the private sector you would, but this is the government." He was right. We didn't even get an apology.