SDG here with some Halloween jack-o-lantern art guest-blogging.
Every year at Halloween I (SDG, not Jimmy) carve a jack-o-lantern. Sometimes it's funny, sometimes it's scary, sometimes it's just… strange.
We take pictures every year, but when I went to look for the pictures for what I consider my most interesting jack-o-lantern to date, I was disappointed to find that they seem to be missing.
However, all is not lost. Inspired by Jimmy's earlier post about virtual jack-o-lantern carving, I've done a quick virtual mockup of my best memory of what the jack-o-lantern looked like.
Again, this is not a photo, just a down-and-dirty Photoshop mockup, but I did really carve this design (more or less; I'm sure it's not exactly the same), about seven or eight years ago.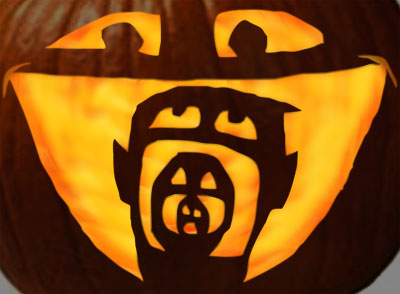 I called it "The Hierarchy of Hell," because the inspiration was C. S. Lewis's imaginative depiction of hell in The Screwtape Letters as a society in which everyone seeks to devour everyone else.
"The Hierarchy of Hell" depicts four concentric heads, each devouring and/or being devoured by others.
After carving "The Hierarchy of Hell," I discovered that my jack-o-lantern had an unexpected but eerily fitting "performance art" aspect: As the pumpkin began to shrivel and decompose, the #2 head slowly began to withdraw into the maw of the largest head, while the mouth of the largest head slowly began to "close" on the other heads!

By the time I finally went to throw the thing away, it had collapsed into a mouldering heap -- and when I went to pick it up, it fell apart completely -- and there on the ground where the base of the pumpkin had been was the clearly recognizable ruins of the three inner faces, long since fallen back against the floor of the pumpkin, grimacing up at me.
I have to tell you, I felt I had come a lot closer to portraying the reality of hell than I ever meant to!
P.S. I'll follow up this post with another with some real photos of a pumpkin I decorated (as opposed to carved) at a company picnic this year.