Yes, the red name above isn't Jimmy, Michelle, or Tim J. In a rare foray from guest-blogging limbo, I've returned to… share some pictures from my summer vacation.
Wait! Come back! Don't worry, I'm not talking about a slide show of My Trip to the Grand Canyon or anything like that. It's just that last week, vacationing in North Carolina, I contributed an entry to a sand sculpture contest — and won — and, given the subject matter, I thought Jimmy's readers might like to see the results.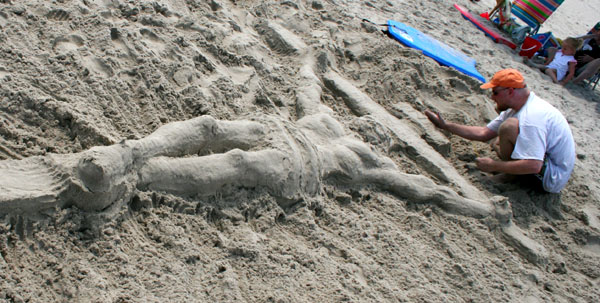 Granted, on this particular blog, graced as it is from time to time with Tim J's stunning artwork, my summer-day diversion isn't as impressive as it might somewhere else, but still, I'm pretty pleased with the results.
This was my first complete crucifixion sculpture; last year I made a couple of unfinished studies that gave me the confidence to tackle this project in spite of having only 75 minutes to do it in before the contest judging.
(The conditions weren't ideal… The tide was high and rising; the time to sculpt sand is when the tide is receding, which allows the best access to wet sand. For awhile I wasn't even going to enter the contest, but eventually I decided to give it a try, and was pleasantly surprised at how well the relatively dry sand above the tide line handled.)
In previous years, I've done sharks, crocodiles, mermaids and sea serpents.
Well, that's all I have to say about that, so… see you next summer!